Infinix Unveils The New Note 30 Series In Lamu
Smartphone brand Infinix has announced the release of its new NOTE 30 Series, which includes the NOTE 30 Pro, NOTE…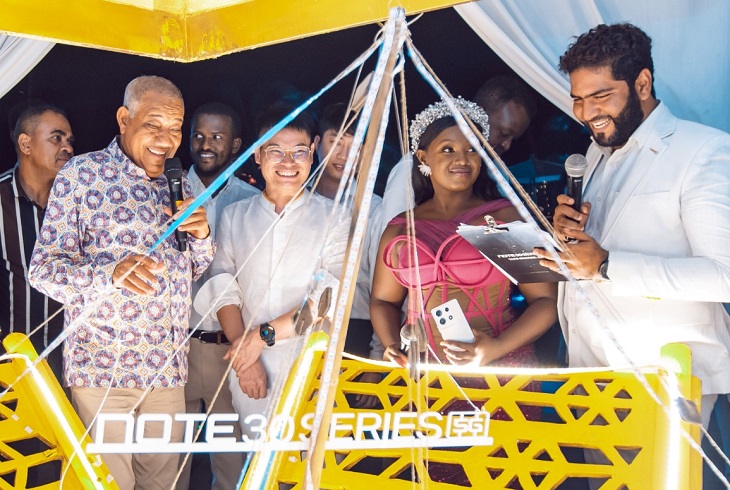 Smartphone brand Infinix has announced the release of its new NOTE 30 Series, which includes the NOTE 30 Pro, NOTE 30 VIP, and NOTE 30.
This latest offering from Infinix features the brand's hallmark charging capabilities, with an improved All-Round Fast Charge solution that can reach up to 68W wired and 15W wirelessly.
Lamu Governor Issa Timamy and Infinix country manager Shane Liu unveil the Infinix Note 30 series during the launch at the Majilis Resort in Lamu, alongside Infinix brand ambassadors Kate Actress and Chef Ali
In addition, the NOTE 30 Series boasts a smooth and responsive 120Hz refresh rate display and an ultra-clear triple camera system with lenses up to 108MP. Furthermore, Infinix has partnered with JBL for upgraded tuned sound, and created Ultra Powerful Signal technology, offering users incredible performance and efficiency like never before on an Infinix device.
"At Infinix, we designed the NOTE series with the aim of providing users with a powerful phone that can keep them connected to the world, anytime and anywhere. To achieve this, we developed the first-ever All-Round Fast Charge solution, which not only delivers speed but also ensures safety, intelligence, and flexibility. With this solution, users can take charge of their lives in all scenarios, 24/7. All devices have a premium display, ultra-clear camera, JBL-tuned sound system, and advanced connectivity capabilities. We are confident that the NOTE 30 Series is a top choice for power users seeking an unbeatable value." – Liang Zhang, Deputy General Manager at Infinix.
The Fast Charge Revolution
Infinix's NOTE 30 Series comes packed with groundbreaking new charging innovations. The NOTE 30 Pro features 68W All-Round FastCharge, which can charge its 5000mAh battery from 1% to 80% in just 30 minutes1.
The NOTE 30 Series introduces Infinix's all-in-one solution for charging. Reverse Charge enables the device to work as a power bank for other devices in emergency situations. Bypass Charge filters the current to supply power directly to the main board, which controls the phone's temperature, resulting in an average temperature drop of 2℃ – 7℃2.
These advances in temperature control keep the device cool, allowing users to charge and play games simultaneously. The series also includes Intelligent Power E-IQ further advancing the charging experience with AI algorithms and security measures that protect users from overcharging.
About Post Author