IGAD And EU Joins Kenya In The Fight Against COVID-19
The Intergovernmental Authority on Development (IGAD), in collaboration with the Delegation of the European Union to Kenya and the United…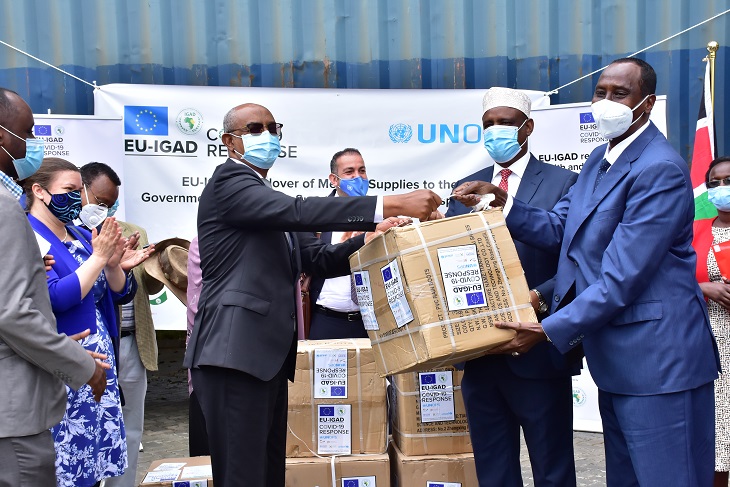 The Intergovernmental Authority on Development (IGAD), in collaboration with the Delegation of the European Union to Kenya and the United Nations Office for Project Services (UNOPS), has handed over medical supplies to the Government of Kenya.
The supplies are part of the EU-IGAD COVID-19 Response project in the IGAD region and consist of an assortment of Personal Protective Equipment (PPE), Laboratory test kits for COVID-19 (25,056 tests), two standard ambulances, one advanced ambulance, and a mobile laboratory worth 1.9 million Euros.
They will be put in use in cross-border areas. Two ambulances and the mobile laboratory are expected in the country at a later date and will be handed over to the respective priority cross-border site in the country. Similar events are planned at all the IGAD member countries.
In a short intervention in front of media practitioners invited to the event, Dr. Fatuma representing ES IGAD, expressed her satisfaction 'to witness that the supplies meant to fight COVID-19 have reached the people they were intended to reach: cross border communities here in Kenya, the people in need of these supplies.
The EU has responded to us immediately after the IGAD Summit on COVID-19. We are aspiring to be very close to the communities. We thank the government of Kenya, our partners, the European Union, UNOPS, Germany Embassy, World Food Program (WFP), GIZ, International organization for Migration (IOM), Trade Mark East Africa (TMEA), and all other partners working with IGAD. IGAD is working very closely with each and every one of you in different areas', Dr. Fatuma said, on behalf of the ES IGAD, Dr. Workneh.
The European Union allocated a 60 million Euros package to help tackle the health and socio-economic impact of the COVID-19 pandemic, in support of IGAD in its mandate to coordinate national responses to the COVID-19 pandemic in the Horn of Africa. It is part of the Team Europe Global Response package (EU and its member states) to support partner countries' intervention to the pandemic and its consequences.
The project focuses on vulnerable groups, including migrants, refugees, internally displaced persons, and cross-border communities, including more than euro 13 million worth of medical supplies and equipment.
Main activities include the provision of health responses, WASH services, prevention of gender-based violence, and risk communication. The project also helps ensure borders and critical supply chains so they are safe for trade. Through the component managed by GIZ, it also promotes digital solutions to monitor the crisis. The project aims to support more than 1 million people across the region.
To ensure its regional and multi-sectoral dimensions, UNOPS manages the project with implementing partners – IGAD, International Organization for Migration (IOM), TradeMark East Africa (TMEA), and the United Nations Children's Fund (UNICEF). GIZ manages the digitalization component.
About Post Author