There is rain all over Kenya at the moment. Some are calling it El Nino, some are calling it "normal rain", but from the look of things, it has decided to rain. It is pouring all over. Kenya Red Cross says at least 50,000 houses have been destroyed by the rains.
Even in areas that have never received much rain like Mandera and Kitui, the current rain is pounding in those areas so hard that they are experiencing massive floods. People from across the country are marveling at these floods and wondering what will come next.
The irony is that, after the rains are gone, and the dry season is back up, the waters will be gobbled by the ground and people will have no water left. Nobody is thinking of harvesting the current rainwater so that when the rains are gone, water will still be available.
It is on the premise of the ongoing rains and the need to harvest water for future use that Stima Sacco, through their makeover loan, and in partnership with Poa Tanks, is giving out water tanks to all the members 100 shillings per month. Imagine this.
Related Content: How To Easily Own Samsung Z Fold5 Without Breaking The Bank Through Stima Sacco
It is easy. All you need is that you must have a regular income, have made uninterrupted 3 months of regular contributions before the application date, and have the ability to pay. Of importance is that you MUST be a member of Stima Sacco.
Here are the prices for various tanks and the scheduled payments: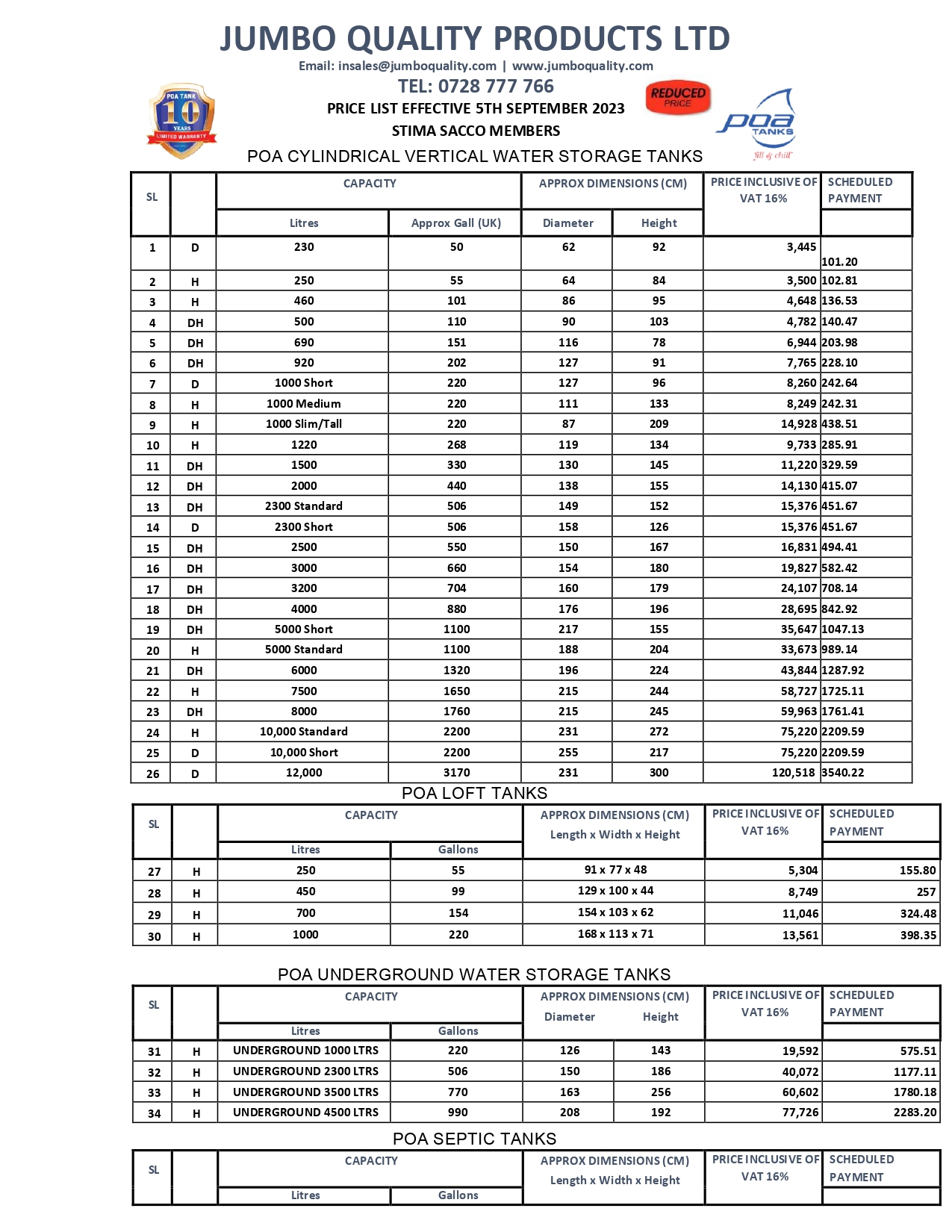 If you need a tank right now, please visit Stima Sacco through their website or their social media platforms and get a tank before this rainy season comes to an end. It is cheaper to store water than drilling a whole borehole. Do not be left behind as others benefit.
Related Content: The Makeover Loan From Stima Sacco, Helps You Buy More And Pay Mos Mos