Here Is A Biomedical Jacket That Could Save Lives
The jacket is able to communicate with the phone and it's able to send through the results of the key…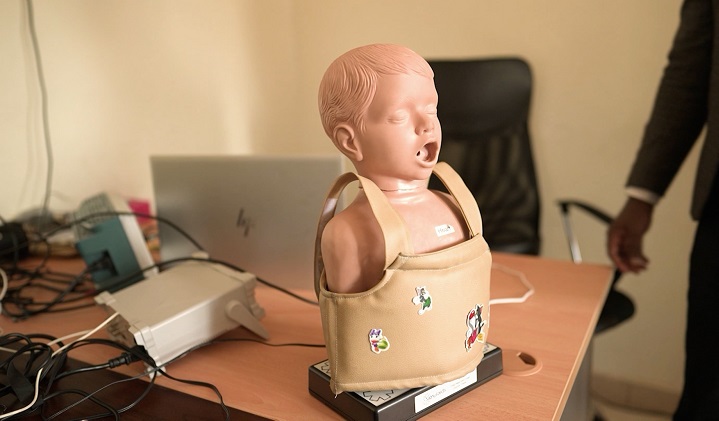 Through artificial intelligence and algorithms, a team of data scientists has developed a biomedical jacket that could save lives. The jacket has been developed by Mama Ope whose mission is to provide healthcare workers with a diagnostic tool that can eliminate the possibility of a misdiagnosis.
"The jacket is able to communicate with the phone and it's able to send through the results of the key parameters of the vital signs that are associated with pneumonia," Turyabagye says.
Turyabagye hopes that his commitment to using technology for goodwill not only makes a difference in people's lives but inspires others to do the same.
"I see a lot of positivity coming up, I see a lot of people putting their minds to work, not just someone sitting back and leaving things to be the way they are, but people who will be focused on getting things done no matter whichever environment they are in and I believe that will build a whole bigger system of people," he says.
Next, CNN meets Joan Rukundu Nalubega, co-founder of Uganics, a company that makes an affordable, organic, mosquito repellent soap to help combat malaria in Uganda. Having suffered from the disease as a child, Rukundo Nalubega decided to fight it to prevent other children from going through her experience.
"Our product provides affordability protection all around the clock and it's an everyday product. So, there's no need for behavior changes. It's already in our behavior to take a shower every day in the evening," she explains.
In addition, Uganics also provides job opportunities to low-income women in rural communities, training them in herb growth and oil extraction. "We identify families or households that are mainly taken care of by women and have a high financial need then we take them, we find out if they have land around their homes," she says.
The company has achieved widespread success working with companies all around East Africa and selling through the tourism industry in the US and in Europe. In 2019, the startup has crowned the winner of the Champions of Science Africa Innovation Challenge, and its products are now certified by the National Drug Authority in Uganda.
The program also meets Phyllis Kyomuhendo Ainomugisha, co-founder of M Scan, a portable, energy-efficient ultrasound device that connects to a phone, laptop, or tablet. After witnessing many pregnant women die due to the lack of ultrasound accessibility during her time in medical school at a health center in Northern Uganda, Ainomugisha vowed to change that.
"We thought, how do we bridge this gap? How do we bring our services closer to the average person in Uganda? And that's when we thought about a portable device that could use less energy and could be moved on these bad roads that we have leading to most of the villages," she explains.
The startup provides the service through what it calls "ultrasound camps," in which they work with a team of radiographers and doctors to scan pregnant women and collect data. "We get a market here to go to different clinics, community clinics that do not have ultrasound devices, and pitch M Scan to these different owners of health centers," says Kyomuhendo Ainomugisha.
About Post Author