Garden City Living Is About Family, Memories, And laughter.
If you live in an urban setting, it is likely that you crave the quiet and serenity of the countryside…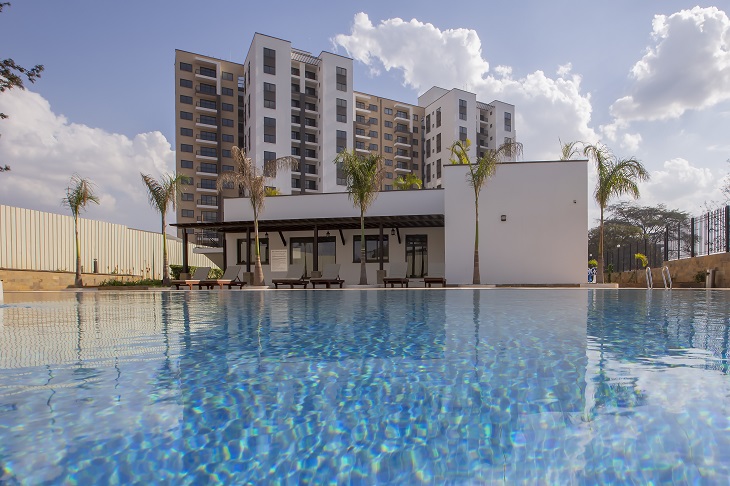 If you live in an urban setting, it is likely that you crave the quiet and serenity of the countryside interspersed with urban vibrancy. We all need peaceful havens tucked away in nature, where we wake up to the singing of birds and the rising sun piercing through a canopy of trees.
Unfortunately, the prospect of living in such a home remains a dream for many, thanks to limited affordable housing within commuting distance. This is the gap that Garden City Living seeks to fill.
Garden City is an established 47-acre mixed-use development designed around a lush 3-acre central park with a flourishing retail, residential, and office community.  Conveniently located at Exit 7 along Thika Highway, Garden City Living is a short drive from Nairobi's central business district with access to a wide choice of schools, hotels, sports clubs, medical facilities, and the Jomo Kenyatta International Airport. Living at Garden City means having both Garden City Mall and Garden City Business Park at their doorstep along with direct access to Garden City Living amenities. The residents can pick up their morning coffee as they walk to work, and choose from over 100 shops, restaurants, and cafes at the mall, including the  Carrefour supermarket and IMAX cinema. Garden City's 3-acre central park offers an excellent relaxation arboretum, children's playground, and water park.
Garden City Living currently has four projects. Garden City Residences and Mi Vida Garden City which are complete while Amaiya Garden City and 237 Garden City are under construction.
Actis, the leading global growth markets investor, and Shapoorji Pallonji Real Estate (SPRE), the real estate arm of one of India's largest conglomerates are behind these projects.
Launched in 2019 through a joint venture between Actis and SPRE, Mi Vida was inspired by a desire to address the shortage of middle-income housing that families can afford. The company set out to deliver a minimum of 3,000 middle-income housing units over five years, riding on innovative design, modern engineering, trusted construction, and on-time delivery.
Premium development within Garden City
Garden City Residences was the first premium development within Garden City, offering 2- & 3-bedroom modern apartments, duplexes, and 4-bedroom townhouses. At its heart is a three-acre landscaped park, with children's play areas, an adult and children's swimming pool, a gym, a clubhouse, and generous lawns and gardens.
The Mi Vida Garden City, for its part, was completed in June 2022. It is a first of its kind with the development centered on green space and family living. The project offers 1-, 2- and 3-bedroom apartments, with the largest amenities of any residential development in Nairobi.
Amaiya Garden City, launched in 2022, is a continuation of the unique offering provided by Mi Vida Garden City Phase 1, offering 1- & 2-bedroom luxurious duplex units and beautifully designed 3-bedroom apartments. Amaiya upholds Mi Vida's brand promise of innovative design, modern engineering, trusted construction, and on-time delivery.
Then there is 237 Garden City, nestled within the Garden City community, and designed to provide a unique and affordable investment opportunity with studios, deluxe studios, and 1 and 2 bedrooms. The project, also launched in 2022, features 600 apartments. A studio unit at the 237 Garden City project goes for 2.1 million shillings with a deposit of 560,000 while a deluxe studio goes for 2.5 million shillings with a deposit of 620,000. One-bedroom and two-bedroom apartments are priced at 4.2 and 6.2 million shillings respectively.
As the concept of home ownership continues to evolve, many will find both the location, pricing, and flexible payment terms of the Garden City homes quite attractive.
About Post Author