ELDOWAS steps up Efforts to conserve Forests In Kenya
The Forest Sector is key to Kenya's social and economic well-being as most of the country's economic sectors rely on…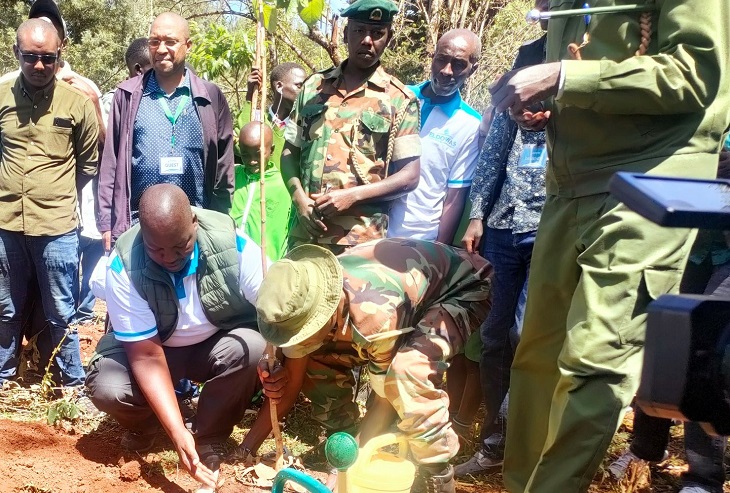 The Forest Sector is key to Kenya's social and economic well-being as most of the country's economic sectors rely on environmental-based resources for their sustenance.
The sector contributes about 7 billion shillings to the economy and employs over 50,000 people directly and another 300,000 indirectly. Forest ecosystems also enhance landscape resilience to climate change.
In the country's water towers, forests provide environmental services that include water quality and quantity, reduction of soil erosion, and creation of micro-climatic conditions that maintain or improve productivity.
Forests are also known to be among the most effective sinks of greenhouse gases, which cause climate change, and hence they are important in contributing to climate change mitigation.
Kenya's forest cover is estimated to be about 7.4 percent of the total land area, which is a far cry from the recommended global minimum of 10 percent.
Kenya's closed canopy forest cover currently stands at about 2 percent of the total land area, compared to the African average of 9.3 percent and a world average of 21.4 percent. Most of the closed-canopy forests in Kenya are montane forests that are also the nation's water towers.
In recent years, Kenya's forests have been depleted at an alarming rate of about 5,000 hectares per annum. This is estimated to lead to an annual reduction in water availability of approximately 62 million cubic meters, translating to an economic loss to the economy of over USD 19 million.
At the same time, the overall annual rainfall remains low, the long rains have been continuously declining in recent decades, and the proportion of rainfall that occurs from heavy events is expected to decrease.
The frequency of rainfall events causing floods has increased in East Africa from an average of fewer than three events per year in the 1980s to over seven events per year in the 1990s and 10 events per year from 2000 to 2006.
It is because of the call to conserve the earth and preserve water catchment areas through the planting of trees that the Eldoret Water and Sanitation Company Limited (ELDOWAS) has been leading others within and without the sector in response to global calls for water conservation.
"Droughts have intensified in terms of frequency, severity, and coverage over the past few decades. Kenyans are feeling the impacts of climate change and higher temperatures, unpredictable rainfall patterns, increased incidence of droughts and floods, and rising sea levels are impacting people across the country," said Peter Biwott, Managing Director, ELDOWAS.
To help catapult them to the next level, ELDOWAS has joined and integrated the UN Global Compact principles that are anchored on human rights, sustainability, environmental conservation, good working conditions for their team, and practice of good governance.
So far, ELDOWAS has two tree nurseries with about 1.2 million tree seedlings and hopes to increase to 2 million by next year. At the same time, the company has adopted over 20 community tree nurseries with a view to increasing its conservation efforts to over 2 million tree seedlings to be planted every year to push the agenda of water and sanitation for all, climate action, afforestation & reforestation, sustainable cities, and communities.
"In 2022, we have committed to planting at least 650 trees in every learning institution in the county, translating to about 55,000 trees. ELDOWAS will be providing the seedlings for free. We are trying to deal more with the indigenous trees," said Andrew Chelogoi, Chairman of ELDOWAS.
About Post Author