Del Monte Surprises KNH With A Donation Of Canned Pineapples Worth Ksh 1,000,000
Murangá based food and beverage processor – Del Monte Kenya Limited, has stepped up its humanitarian efforts in response to…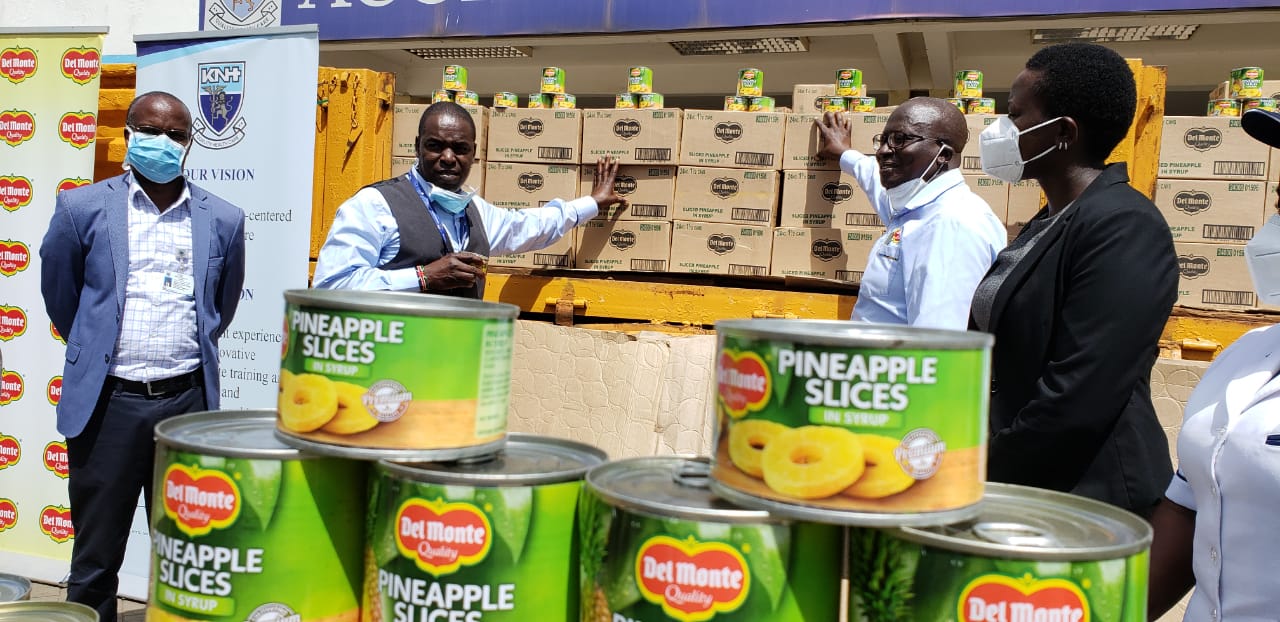 Murangá based food and beverage processor – Del Monte Kenya Limited, has stepped up its humanitarian efforts in response to the COVID – 19 pandemics, by donating 7,140 cans of canned pineapples worth Kshs 1 Million, to feed the frontline health workers and patients at Kenyatta National Hospital's (KNH) Infectious Disease Unit.
The company will donate the canned pineapples to the two branches of KNH's Infectious Disease Unit, to bring relief to those most affected by the pandemic.
"Food is at the heart of what Del Monte Kenya produces, and we believe the best way we can support communities during this difficult time is by leveraging our expertise and capabilities, along with help from our partners, to bring food to our neighbors who need it most," said Stergios Gkaliamoutsas, Del Monte Kenya's Managing Director.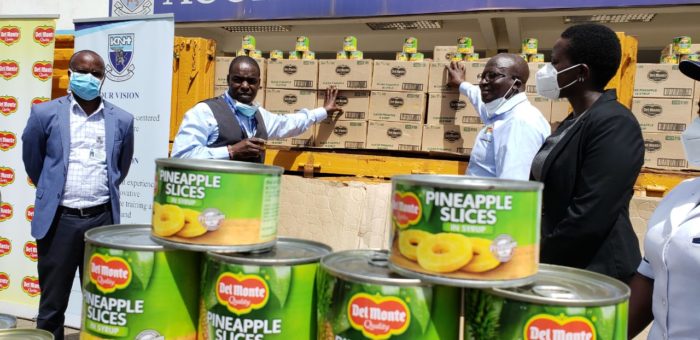 Adding, "We're activating our resources to do this now and provide other essential relief, and we will continue to do so as the country unites to tackle COVID-19."
In addition to the canned pineapple donation, Del Monte Kenya has already made other donations worth Kshs 1 Million in support of COVID-19 mitigation efforts to Kiambu and Murangá County governments and has promised to continue supporting both county governments and other national government efforts in the fight against Covid-19.
Some of the initiatives that the company has undertaken include:
Availed fueled spray equipment and experienced workforce to Murang'a County, to be used in the fumigation of public spaces and markets within Murangá County (7 Sub-Counties).
Availed a 10,000 liters water bowser and well-trained workforce to Thika Sub County Rapid Response Team, for the supply of clean water to the installed Handwashing tanks installed for the public in the Sub-County.
Donated food (pasta and juices) through Thika District Business Association distributed to the most vulnerable persons in the disadvantaged areas of Kiandutu, Goshen, Umoja, and Gashagi, in Thika Sub-County.
Donated water tanks with washbasins to the Ndula community in Kiambu County.
Donated food (fresh pineapples, canned pineapples, juices, and water) to the police and public health officers operating the roadblocks within Thika.
The company has also implemented business contingency plans to minimize disruption to the business if employees, suppliers or distribution are impacted, so that it may continue to operate for as long as it is safe to do so.
About Post Author