Del Monte Awards Employees Who Have Worked The Longest At The Company
Del Monte Kenya Limited (DMKL) recently presented 21 employees with long service awards in recognition of their commitment, loyalty, exceptional…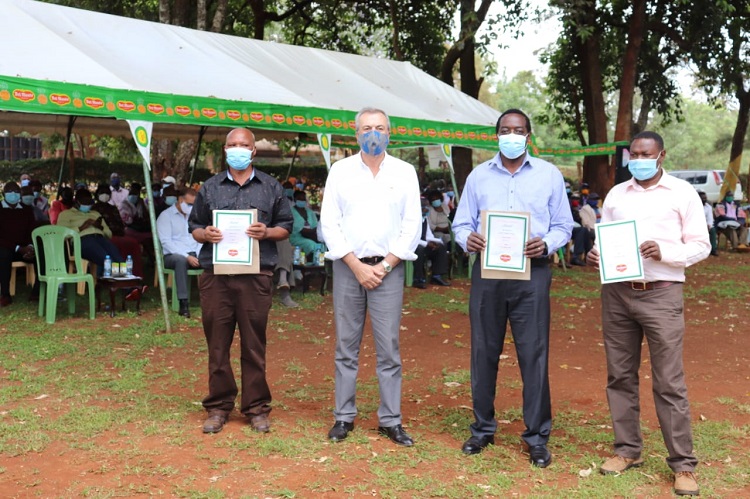 Del Monte Kenya Limited (DMKL) recently presented 21 employees with long service awards in recognition of their commitment, loyalty, exceptional service, an invaluable contribution to the growth of Kenya's most admired food brand over a period of 10 to 40 years.
During the Long Service Awards, hosted by the Managing Director, Mr. Stergios Gkaliamoutsas, the long-serving members of staff were each given a certificate of recognition, a shopping voucher, a Christmas gift, and an ovation from other members of staff.
Five members of staff were awarded 10 years of service awards; five employees with 15 years of service; and four employees with 20 years of service. An additional three employees were awarded 25 years of service awards; one employee with 30 years of service; two employees with 35 years of service and one employee with 40 years of service.
The company also feted 128 retirees whose terminal benefits were processed and issued by the National Social Security Fund (N.S.S.F) during the ceremony.
Speaking during the ceremony, Mr. Gkaliamoutsas commended all the awardees for their loyalty, commitment, and dedicated service over the years; all of which had contributed to the growth of the company. He noted that employees, especially the awardees, were a crucial part of the success story which Del Monte Kenya has become.
"Del Monte Kenya is indeed very fortunate to have staff members whose many years of dedication, commitment, and loyalty have shaped and contributed towards our successes. Now, it is our turn to say Thank You and reward your loyalty," said Mr. Gkaliamoutsas.
Since first establishing its Del Monte Kenya Limited ("Del Monte Kenya") division, the Del Monte® brand has become one of Kenya's most significant contributors to social and economic progress. Currently, it moves an average of 4,000 containers of pineapple products and other fruit beverages through the port of Mombasa every year, directly employs over 6,500 locals, provides company housing for more than 2,000 employees, and generates approximately 28,000 other jobs through other companies associated with Del Monte Kenya activities.
About Post Author