Absa Bank Goes Into Fruits, To Plant 3000 Trees
Absa Bank Kenya has kicked off a campaign to plant over 3000 fruit trees in several primary schools across the…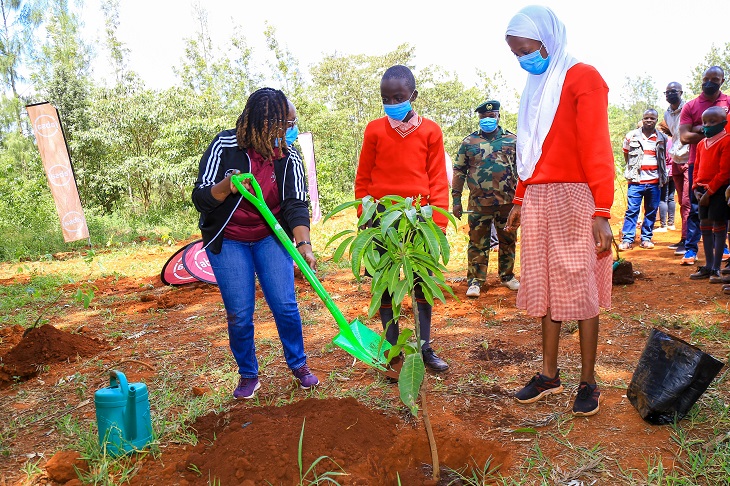 Absa Bank Kenya has kicked off a campaign to plant over 3000 fruit trees in several primary schools across the country through the Birdies For Good initiative.
This follows an impressive performance by both local and international pro golfers who registered a score of 1524 birdies in the just-ended Magical Kenya Open tournament.
Absa Bank Kenya will thus fulfill its commitment to plant and nurture two fruit trees for every birdie made during this year's tournament through this initiative. Each fruit tree is estimated to cost KES1, 200 to plant and grow. The Absa's Birdies for Good initiative is part of the company's larger commitment to plant 10 million trees over the next five years.
The bank's Head of Sustainability, Jane Waiyaki, commented on the initiative's success, saying, "We are glad that our Pros brought their A-game in support of our environmental conservation and food security campaign. As a Force for Good organization, we are always looking for new ways to innovate, such as using the power of sports to scale our sustainability programs and make a positive impact in the communities we work in and the environment."
Fruit trees play an important role not only in improving Kenya's tree cover, which is currently 7.4 percent, well below the global average of 10 percent but also in improving national nutrition, particularly among school-aged children.
Last year during the inaugural Birdies for Good campaign, the bank, in collaboration with the European Tour, raised close to KES8 million from 1881 birdies scored during the 52nd edition of the Magical Kenya Open and the Kenya Savannah Classic.
The funds were used to support long-term community-based initiatives in Laikipia, Samburu, and Isiolo that address a variety of community challenges such as period poverty, desertification, and insufficient girl-child education.
At this year's event, the further bank reinforced its sustainability commitments by using furniture made of waste timber that had been compacted and compressed, as well as up-cycled bicycles, which assisted in efforts to save trees.
About Post Author