AAR Gets An Important Certification That Puts It On Another Level
AAR Healthcare Kenya Limited has just achieved a major milestone: the accreditation of Williamson House Laboratory to the ISO 15189-2012…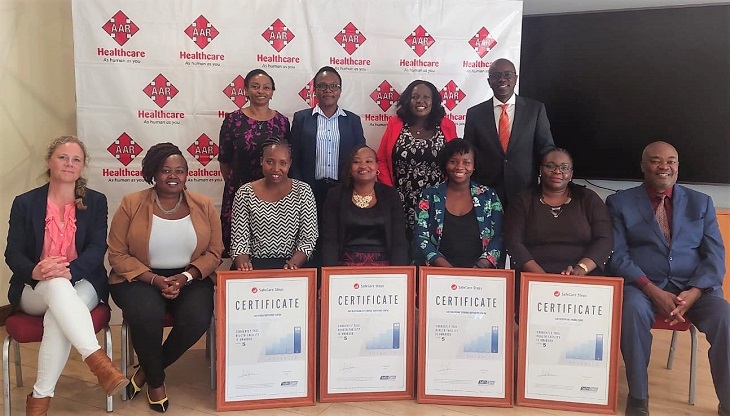 AAR Healthcare Kenya Limited has just achieved a major milestone: the accreditation of Williamson House Laboratory to the ISO 15189-2012 Accreditation for Medical Testing Laboratories.
This accreditation confirms AAR Healthcare Kenya Limited's commitment to providing dependable, accurate, reliable, and impartial results to their customers. The accreditation also ensures that the laboratory processes and management systems are designed to consistently deliver high quality results to the customer thereby minimizing wastage related to repeating tests or inaccurate results.
This accreditation means that test results from the AAR Williamson House Laboratory are now recognized globally. The ISO 15189-2012 accreditation highlights the importance of patient needs and the responsibility of the clinical personnel. Further, it creates a sense of professional pride as the laboratory staff has gone through rigorous training and skill development to achieve this accreditation.
Speaking at the accreditation award ceremony, Dr. Joyce Sitonik – Ag. General Manager, of AAR Healthcare, said, "AAR Williamson House Laboratory is the largest of the 22 laboratories in the group and this accreditation solidifies the position of AAR Healthcare Kenya Limited as a leader in healthcare in Kenya." The AAR Hospital on Kiambu Road which was recently accredited by NHIF and AAR Healthcare Kenya is part of the Healthcare Holdings Investment Group. The group has been operating in Kenya since 1984 and is committed to increasing investment in healthcare to support the country's UHC goals.
In addition, AAR Healthcare is proud to announce that seven (7) of our twenty-one (21) Outpatient Centres have attained the highest level of certification according to the SafeCare standards. This certification is a testament to our commitment to providing high-quality, safe, and effective healthcare services to our patients. Our Outpatient Centres are now among the quality healthcare facilities in Kenya and the East African region, setting a new benchmark for healthcare services. We believe in providing our patients with the human touch and ensuring that they feel completely safe and secure with us.
Speaking at the award ceremony held today, the Pharm Access Team said that AAR Healthcare Kenya is a healthcare provider of choice for many Kenyans. They thanked the team for their commitment and passion for improving care quality and patient safety.
AAR Healthcare is dedicated to making a difference in healthcare services and improving the health of our local communities.
About Post Author