A One-One-One With Africa's Fastest Man
Omanyala is 'Africa's fastest man who is inspiring a running revolution in his country. While Kenya is normally recognized for…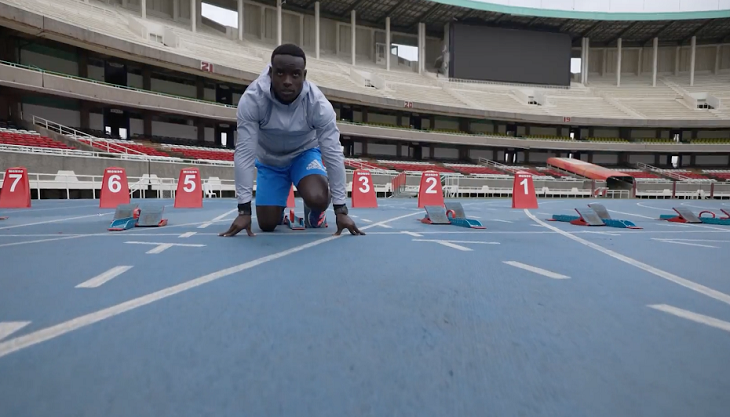 Omanyala is 'Africa's fastest man who is inspiring a running revolution in his country. While Kenya is normally recognized for its long-distance running prowess, Omanyala is challenging this narrative, "I'm changing the perception that Kenyans can't sprint. The narrative has changed and I'm happy about it, and I'm happy that I'm the one who is causing the narrative to change. I hope once I'm done with the sport that this will continue a long way to actually make Kenya a sprinting nation".
Omanyala won gold in the African Athletic Championships in June and at the Commonwealth Games in August. As a result, this has generated a lot of excitement around sprinting in Kenya. Although he is now 'Africa's fastest sprinter', he did not always realize that he had this potential. Having been encouraged to put his running talents to use through rugby, he wants to shine a light on sprinting as a sport: "When a kid starts sprinting and their guardian tells him or her 'You can't go anywhere with a sprint in Kenya,' these kids always opt to go for football or rugby. And I believe there's so much talent in Kenya and one of the things I want to do before I leave this sport is I want to create a sprinting nation".
As well as his personal goal to run the world record, he also wants to encourage and support Kenya's young sprinters: "It's important to me to mentor these young people because it's not a sport that I'll be here forever. I'll need to be proud of myself, that I mentored someone to be where he is or past where I am today. I'm really hoping that this goes a long way to encourage so many other sprinters to take up sprints and to believe that it's possible".
CNN learns that this goal is already being realized when Juma Tyson, an aspiring sprinter says, "Ferdinand is the one who inspired me to get into sprints. He's one guy who really works hard in track and he gives you that feeling that you need to work hard to get to where you need to be."
Finally, Omanyala shares his dream to see future young sprinters compete, "The biggest change I want to make one day, I'll be sitting and seeing so many sprinters coming up to compete. That's one of my biggest dreams in this country and I want Kenya to have an industry of sprints, because, in the long and middle distance, there's always someone coming up every year, so that's what I want for sprints".
In South Africa, Okpo meets trail runners Ryan Sandes and Ryno Griesel. Their passion for running was born from a desire to connect with nature. Sandes recalls his first recollections of his passion: "The first memories that come to mind are spending time with my grandparents, just walking in the forest on the foothills of Table Mountain, I think just developing that love and appreciation for trees and the outdoors". Similarly, Griesel reflects on his childhood, "I was always intrigued and inspired by being outdoors and spending time with my dad, fishing and just having that time and space to really spend time together in that environment".
Even though they come from different running backgrounds, Griesel having competed on the international circuit and Sandes having been more involved in adventure racing, together they hold two impressive fastest known times [FKT] records. They hold the FKT record for the Great Himalaya Trail in Nepal, one of the toughest routes in the world, and for their own country's renowned Drakensberg Grand Traverse. This led to a new desire to break records, so they decided to tackle Africa's Mountain Kingdom, Lesotho. Griesel tells CNN, "I think it was the most challenging project, but I think we handled it a lot better than Nepal, which felt a lot worse, purely because four years have progressed. I think individually, and as a partnership and as a team, I think we've learned to handle it better".
This recent expedition has inspired them to explore Africa further and reminded them of their love for their own continent. "I'm really proud to be a part of Africa. And I think there's so much potential. As I mentioned, I've traveled all around the world and been to some amazing places, but there is no place like home. And maybe I'm a little bit biased, but I think the potential we have on the African continent, and just seeing how many untouched spaces we have, and just the resilience of people and the drive", Sandes says.
The perception of trail running is changing for the better, according to Griesel. Where it had previously been what Griesel refers to as an "elitist niche concept", people like Sandes have raised awareness of what trail running actually is – ultimately anything that's not on the road, "That has just opened up so many doors for so many people and I think in addition to that Ryan having made a career of that, just inspires people to take it to that next level".
The runners have also invested in local communities and the result has been very positive, "Just looking at the sparkle in their eyes, looking at their smiles, you just realized there's something clicking. I can tangibly see barriers breaking and I can also see people's dreams coming alive and I see that moving into the sport, the numbers have picked up significantly, and obviously because there are more events, it becomes more affordable", Griesel shares.
Despite being an ultra-trail runner with a demanding training schedule, Sandes says he wants to use his talents for good. "I don't want to be remembered as Ryan Sandes, the guy that won this race or didn't finish that race or whatever. Like for me, it's more being able to give back and just use the opportunities I've been given in life to create opportunities for other people."
About Post Author