A Million Trees To Be Planted In Eldoret And Iten
First Lady Rachel Ruto through her Mama Doing Good charity has partnered with leading environmental conservation non-profit, The Nature Conservancy…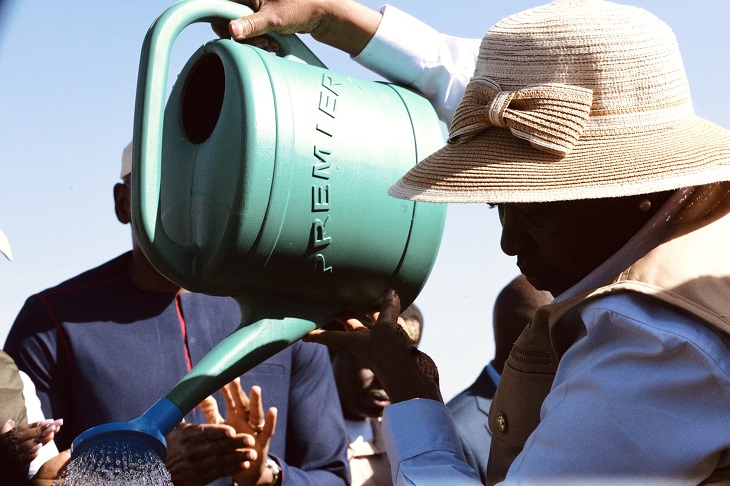 First Lady Rachel Ruto through her Mama Doing Good charity has partnered with leading environmental conservation non-profit, The Nature Conservancy (TNC), in a one million tree planting campaign to conserve the Cherangany, Elgeyo Hills forests, and the Northern Mau – critical water towers that supply water to the cities of Eldoret, Iten, and surrounding communities.
This 'One Million Trees' initiative is part of Ms. Ruto's pledge to plant 500 million trees with an ambition to hit 1 billion by 2032 to complement the President's pledge to green the country and deal a blow to the twin crises of climate change and rapid biodiversity loss.
The partnership will piggyback on TNC's water fund programs in four of Kenya's major water towers – Eldoret-Iten, the Upper Tana, the Coast (Jumuiya ya Pwani), and the Nandi/River Yala catchments to plant 5 million trees over three to five years.
Today's launch feeds into ongoing conservation activities within the Eldoret-Iten Water Fund – a catchment covering 6,774 km2 with a population of about 1.6 million inhabitants in both Uasin Gishu and Elgeyo Marakwet counties. It contains important biodiversity hotspots of several indigenous tree species and regionally threatened bird and mammal species.
The TNC-pioneered water fund model is a collective action mechanism bringing together businesses, government, local communities, and public sector financiers to harness resources to finance long-term investments in nature-based solutions.  It is a form of payment for ecosystem services requiring water users in cities to pay for the conservation of the upstream forests, wetlands, and farmlands. Smallholder farmers and landowners are incentivized to practice climate-smart agriculture and sustainable land conservation methods.
Mr. Ademola Ajagbe, TNC Regional Managing Director said his organization partnered with the First Lady to accelerate the scale of their impact on people and nature. He cited the need for enhancing environmental conservation and management with people's livelihood concerns, stating that the partnership is not just about tree planting but also promoting sustainable management and resilience of ecosystems and their different services for land, water, biodiversity, and forests and at the same time safeguarding the long-term potential of critical food systems.
The country's low forest cover is largely attributed to expansive smallholder farming activities or food production systems that experts say account for nearly 80 percent of deforestation; 70 percent of land biodiversity loss; 50% of freshwater biodiversity loss, and 25% of all greenhouse gas emissions globally.
"Climate change and a wide range of human activities are impacting habitats at unprecedented and unsustainable rates. We need to mobilize community action, broaden partnerships, harness conservation investments, and influence public policy to put nature center stage", said Ademola.
He added that the partnership with the First Lady presents a potentially large-scale, science-informed, equitable, coordinated, and collaborative action to respond to the climate and biodiversity crises in Kenya that can be replicated by others.
The One Million Trees initiative will focus on providing mature tree seedlings and technical expertise to local communities by distributing and planting over 200,000 grafted fruit trees, 50,000 macadamia nut trees, 100,000 giant bamboo trees, 200,000 fodder trees, and over 400,000 agroforestry and indigenous trees.
Farmers and residents who have been enduring devasting health effects from chemically and biologically contaminated runoff arising from poorly planned agricultural expansion and increasing levels of nitrates in the water welcomed the initiative and pledged to mobilize local indigenous communities' participation.
About Post Author