A Look At The GR Dakar Hilux T1+ By CFAO Motors
When CFAO Motors unveiled its third consecutive sponsorship for the upcoming WRC Safari Rally at their showroom along Uhuru Highway,…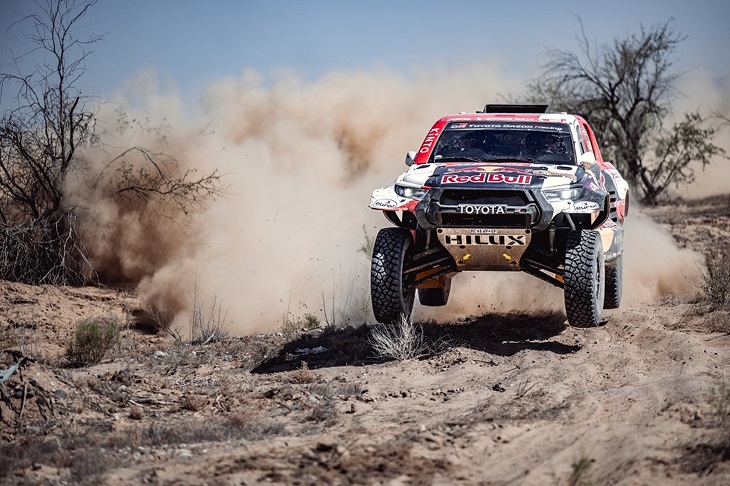 When CFAO Motors unveiled its third consecutive sponsorship for the upcoming WRC Safari Rally at their showroom along Uhuru Highway, one car caught the attention of many in attendance, more than other racing cars on display.
Standing just a meter away from the podium, was the massive, beastly, and dominant GR Dakar Hilux T1+, one of its kind that left most motorsport and car enthusiasts hoping the sun crawled so that they had more time with the beast.
The GR Dakar Hilux T1+ true and powerful  testament that carries the legacy of Toyota's motorsport expertise.
It is equipped with a formidable powertrain that screams performance. Under its robust hood lies the 3.5-litre twin-turbo V6 engine pulled from the latest Toyota Land Cruiser 300 GR Sport. The GR DKR Hilux T1+ engine puts out 298kW of power and 660Nm of torque.
The relentless surge of power effortlessly propels the vehicle to effortless victories in the Dakar Rally and World Rally Raid Championship events.
The car has been engineered to thrive in the most demanding off-road conditions. Its ground clearance, reinforced chassis, and all-terrain tires allow it to conquer uneven surfaces, deep mud, and rocky terrains with ease. This beast of a machine truly excels when the going gets tough.
Standing closer to its towering look will give you the conclusion that Built to endure the rigors of intense off-road adventures. The vehicle's sturdy construction and reinforced components withstand the harshest conditions, ensuring it remains resilient even in the face of extreme challenges.
The GR Dakar Hilux T1+ is the all conquering Dakar Rally winning and current W2RC World Rally Raid Champion.
CFAO Motors specially flew in the GR Hilux Dakar T1+ at the Uhuru Highway Showroom.
About Post Author