A Drill On Safety On The Highway During Oil Transport Conducted
OLA Energy Kenya and other oil marketing companies, fuel transporters, and emergency recovery teams held a highway emergency response drill…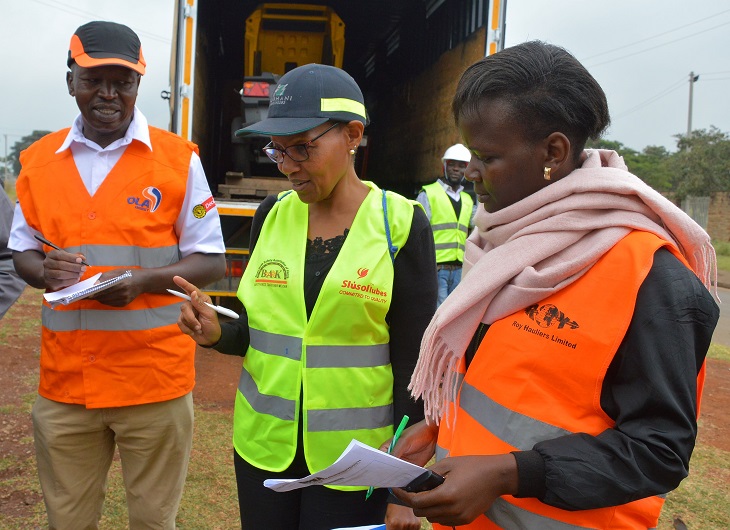 OLA Energy Kenya and other oil marketing companies, fuel transporters, and emergency recovery teams held a highway emergency response drill in Nairobi to test and evaluate response-ability and create awareness on what to do in the event of an accident involving petroleum tankers.
The drill was spearheaded by the Petroleum Institute of East Africa and involved response teams from St. John's Ambulance, the Kenya Police, Nairobi City County Government Ambulance and Fire Engine, and the National Disaster Management Unit.
It involved the simulation of a fuel tanker colliding with a matatu stopping to drop passengers at a roundabout resulting in oil spillage and casualties. During the emergency drill, the first responders to the site were the Kenya Police who contained the accident site. They also helped in attending to casualties. They were followed by the St. John's Ambulance team which responded within 15 minutes of the incident. There were seven casualties from the drill who were given first aid with others receiving psychosocial support. Those severely injured were rushed to hospital. The St. John's team was supported by the Nairobi City County Ambulance team.
On arrival, the fire brigade put out a fire resulting from the oil spill. This enabled the ambulance teams to attend to the injured on the spot and transport others for specialist care at hospitals. The oil spill was further contained by an emergency recovery team which also facilitated the transfer of fuel from the tanker involved in the accident to another brought to the site to reduce and avoid further spillage.
The teams present held a debrief after the drill to analyze the exercise and provide learning recommendations to encourage efficient emergency response in the future.
"Emergency response teams need to regularly test their equipment to ensure they can respond well to any incidents. It is also important to manage any fuel spillage to prevent any secondary incidents from occurring," said OLA Energy Kenya Safety, Health and Environment Manager and Petroleum Sector Safety and Environment Committee (PSSEC) Chair, Ernest Changwony.
"Emergency responders should practice coordination, communication, control, and command when responding to such incidents. Response teams should also keep priorities in mind to ensure that those required to respond first do so and those not needed at the scene of the accident move out to give room for others to access it. It is also important to keep records of those responding to the incident to allow them to keep the objectives for incident command in mind," said National Disaster Management Unit Chief Administration Officer, Cyrus Maina.
Accidents involving petroleum tankers are usually deadly and can result in fire leading to damages, severe injuries, and loss of lives. This was evidenced by a petroleum tanker that was involved in an accident in Githurai last year in July and the deadly accident in Sachangwan that saw over 100 people lose their lives.
In attendance was a representative from the Energy, Petroleum and Regulatory Authority (EPRA), Petroleum Institute of East Africa General Manager, Wanjiku Manyara, oil marketing companies, fuel transporters, and the OLA Energy Kenya Fleet Manager, Joseph Kinyanjui.
About Post Author