51 Dependants Of KDF Soldiers Flagged Off In First TIVET Graduation
51 dependants of the Kenya Defence Forces service men and women aged 18-25 years have graduated from the first cohort…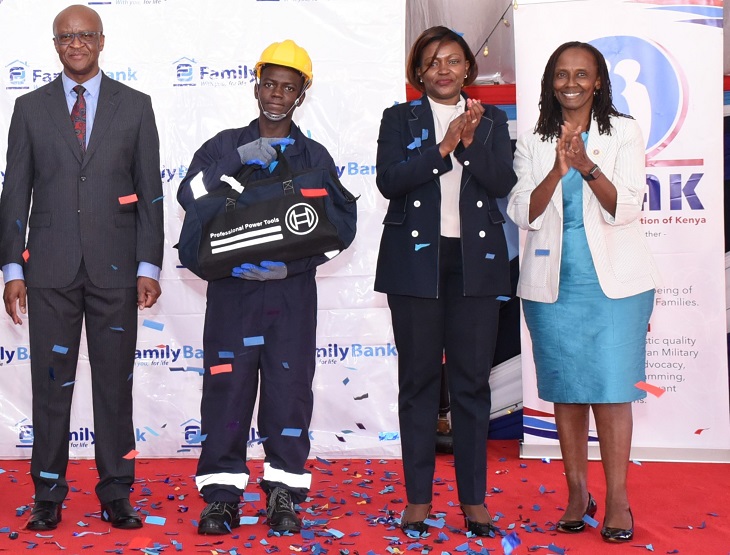 51 dependants of the Kenya Defence Forces service men and women aged 18-25 years have graduated from the first cohort of technical and vocational training in plumbing and electrical installation.
The three months pilot phase training is part of a program between The Family Group Foundation and the Military Wives Association of Kenya (MWAK) aimed at enhancing the employability and entrepreneurial opportunities of the young men and women anchored under the Tufuzu Youth Development Programme. The beneficiaries received construction starter toolkits worth KES 50,000 to make them ready for the job market, internship, apprenticeship placements as well as labor market linkages.
The graduation ceremony was held at Ulinzi Sports Complex and was officiated by the Chief of Kenya Defence Forces Gen. Francis Ogolla who commended the efforts by the Foundation and MWAK in impacting the lives of the dependents of military men and women by providing a means to earn a living through employment and self-employment.
"If this effort and the money you have spent is going to make a difference to one person it is worth it but from the numbers, I can see it is going to make a difference to many people. As a force, we will work on getting you placements to ensure that you apply these skills and acquire the necessary experience," said Chief of Kenya Defence Forces Gen. Francis Ogolla.
He further encouraged the graduates to seize the opportunity and strive to learn more as they work in the field.
"As a Bank, we will continue to invest in this program. So far, we have invested over KES 30 million in providing technical and vocational training.  These tool kits will not only empower you but also provide you with a platform to be able to go ahead and get into the job market as soon as possible," said Family Bank CEO Rebecca Mbithi.
In attendance during the graduation ceremony were The Family Group Foundation Chairman Dr. Francis Muraya, Family Bank Chair Dr. Wilfred Kiboro, MWAK Chairperson Aileen Ogolla, MWAK Partnership and Collaboration Pillar Head Grace Amogola and other service commanders and MWAK members.
About Post Author