251 To Get Full University Scholarship From KCB
KCB Foundation will provide full scholarships to 251 University students this year. The Group Director Marketing, Corporate Affairs & Citizenship,…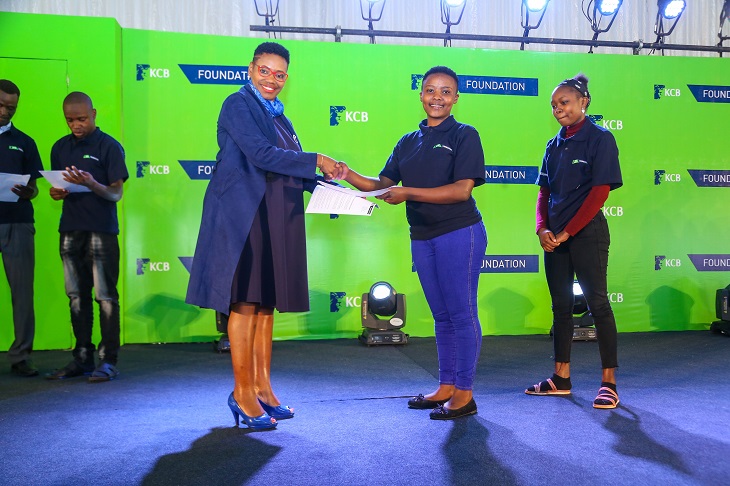 KCB Foundation will provide full scholarships to 251 University students this year. The Group Director Marketing, Corporate Affairs & Citizenship, Rosalind Gichuru commissioned this group of students who will be joining various tertiary institutions on 26th Aug. 2022 during an event at KCB Leadership Center.
During her speech, Rosalind said, "The presence of hundreds of our scholarship alumni here this morning is a testament to the impact of the KCB scholarship program in Kenya. We believe that education plays a pivotal role in alleviating poverty and generating positive lasting change and have so far supported 3,550 students."
"This translates to about KShs. 926M paid in fees. We are proud of our beneficiaries who have recorded an impressive 99% Secondary School Completion Rate and 83% Transition to University. We are encouraged to continue offering support to youths across the nation, enabling them to afford good education and consequentially, better livelihoods," She added.
KCB Foundation launched its scholarship program in 2007 to support bright students through their high school education. The high school scholarship package would provide comprehensive support from tuition, mentorship, transport, and upkeep among others.
Over the years, however, KCB Foundation has scaled up the scholarship package to broaden the impact of the program. Following an impressive performance by the 2020 scholarship class, we rolled out an annual apprenticeship program that provides the top 50 students an opportunity for a three-month apprenticeship annually, commencing with the 2020 class. We also expanded the program to provide university scholarships for the top 50 performers.
This year, we heightened our investment to KES 252M which has enabled us to enroll and support 1,000 bright learners through high school. We are proud to have more than quadrupled the number of beneficiaries from the original 240 students that we supported. We also have plans to extend the university scholarship package to cater to the tertiary education of all the 1,000 beneficiaries every year.
About Post Author