160,000 Residents To Benefit From Chogoria Water Project
The Chogoria Water Supply Infrastructure Project was officially commissioned today by H.E President William Ruto in Chogoria, Tharaka Nithi County.…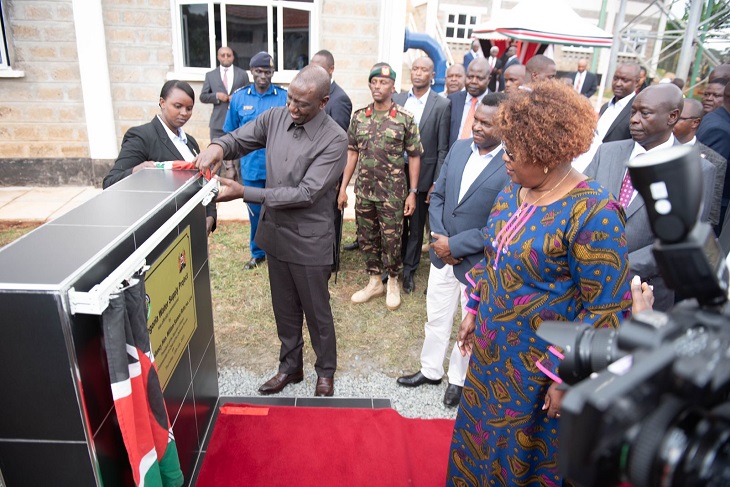 The Chogoria Water Supply Infrastructure Project was officially commissioned today by H.E President William Ruto in Chogoria, Tharaka Nithi County.
The project, aimed at addressing the critical water needs of the region, marks a significant milestone in the Government's commitment to improving access to clean water and enhancing the overall well-being of the community.
The project, overseen by the Water, Sanitation, and Irrigation Ministry and the implementing Agency, Tana Water Works Development Agency, and funded by the African Development Bank (AFDB)and successfully completed saw the construction of intake works, raw water mains, water treatment works, water transmission mains, water storage tanks, and rehabilitation of the existing water distribution network.
The project cost is KES 625 million.
Additionally, it encompassed the construction of the Kairuni-Kabui pipeline and a water storage tank at Chuka University's Chogoria Campus.
Speaking at the inauguration ceremony, Water, Sanitation and Irrigation Cabinet Secretary Hon Alice Wahome expressed her enthusiasm for the completion of this vital infrastructure project, saying, "The Chogoria Water Supply Infrastructure Project will bring lasting benefits to the people of Tharaka Nithi, ensuring access to safe and reliable water for households, educational institutions, and healthcare facilities. This project represents our commitment to improving the quality of life and driving sustainable development in the region."
The completed project has a profound impact on the community, with approximately 1,000 households (equivalent to 4,000 people) benefitting from the new connections and interconnections with the existing distribution system. Notable beneficiaries include the Chogoria PCEA Hospital, Chogoria Girls High School, Chuka University (Chogoria Campus), and the residents of Chogoria Town. Looking ahead, the Water, Sanitation, and Irrigation Ministry, in collaboration with Nithi Water and Sanitation Company Ltd, aims to increase the number of beneficiaries to an impressive 160,000 individuals.
Despite challenges during its implementation more so funding constraints hindering the implementation of last-mile connectivity, the Ministry has remained committed to overcoming these challenges to maximize the project's impact and ensure that every member of the community would benefit from improved access to clean water.
The successful completion of the Chogoria Water Supply Infrastructure Project is a testament to the government's dedication to addressing the vital needs of its citizens. By providing a reliable water supply, the project not only enhances the overall quality of life but also creates opportunities for economic growth and development in Tharaka Nithi County.
The President was accompanied by his Deputy Rigathi Gachagua, Cabinet Secretary of Water Sanitation and Irrigation Hon. Alice Wahome, Principal Secretary of State Department of Water and Sanitation Dr. Paul Kipronoh Ronoh, Water Secretary Eng, SAO Alima, Chief Executive Officer of Tana Water Works Development Agency Eng. Philip Gichuki and Secretary of Administration Mr Stephen Kihara among other officials.
Tharaka Nithi leaders who received the President included Governor Muthomi Njuki and county MPs among others.
About Post Author