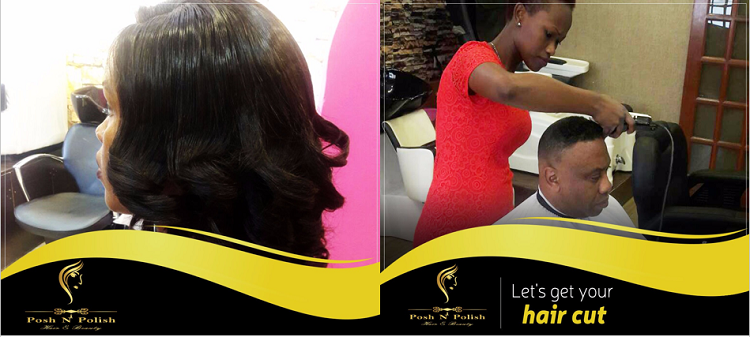 Posh N' Polish Beauty Parlour, Where the Kings and Queens of Beauty are made
Never lose an opportunity of seeing anything beautiful, for beauty is God's handwriting. Beauty is power; a smile is its sword
No one hates being beautiful. No one has ever hated it either. There are various definitions of beauty. One outstanding definition is the quality or aggregate qualities in a person or thing that gives pleasure to the senses or pleasurably exalts the mind or spirit. It is generally the sense of loveliness.
The City in the Sun is in itself a beauty made of beautiful people. To make both Nairobians and non-Nairobians more elegant and beautiful, Posh N' Polish Beauty Parlour is the new haven of where beauty is made in town. Posh N' Polish, is not like any other salon in town, it may look like any other yet different, unique and one of its own kind.
The beauty parlour offers archetypal hair, beauty, barber and Spa experience which aims to supply services and products that enhances their clients' physical appearance and mental relaxation. What is more, it also adds value to investors, employers, clients, the place they work and the community they serve.
Located at Monrovia Mall, Monrovia Street, next to University of Nairobi footbridge, Posh N' Polish offers exclusive services such as Barber, Spa and Nails and salon services.
Here are some of the royal services you will get at Posh N' Polish:
Barber – Haircut, color/dye, tweezing, scrubbing, head & shoulder massage and steaming
Spa: – Massage, Facial, Waxing, Nails, Threading/tweezing, makeup, body scrub and steaming
Salon (both for natural hair and retouched/with a chemical) – Hairstyling (retouch & treatment, wash & blow-dry/setting), Haircut and color, Dreadlocks (permanent and temporary), crocheting, Plaiting, braiding, weaving and many others.
Never lose an opportunity of seeing anything beautiful, for beauty is God's handwriting. Beauty is power; a smile is its sword. The best part of beauty is that which no picture can express. The best and most beautiful things in the world cannot be seen or even touched – they must be felt with the heart.